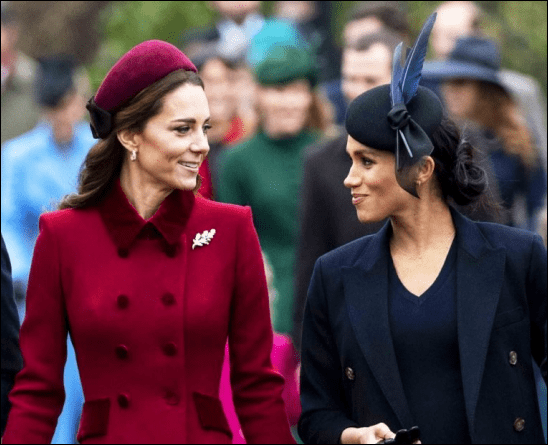 Women are often pitted against each other even when there's no real animosity between them.
The same can be said about the rumors of a supposed "royal feud" between Princesses Kate Middleton and Meghan Markle.
Is it because they're both commoners who married into royalty? Is it the fact that their husbands are brothers and have often been compared to each other growing up?
Whatever it is, such rumors might not even be true after all especially now that it's been confirmed that Middleton will be throwing her royal sister-in-law a second baby shower.
Markle originally had a baby shower in New York City that allegedly cost $200,000.
However, the second one will be less traditional and lavish as her first party according to a royal insider. It's also worth noting that baby showers aren't really a royal tradition. In fact, some members of the royal family even see the celebration to be a bit tacky, especially the aspect of having to register for baby gifts that they can afford to buy themselves.
Still, seeing what kind of party Middleton comes up with is of great interest to both the American and British public. Lest you forget, the Duchess of Cambridge was raised by millionaire parents who made a fortune on their party planning business venture.
While none of the royals attended Markle's New York baby shower, it's rumored that Princess Eugenie, one of the Duchess of Sussex's closest royal relation, will be there along with the duchess' mother Doria Ragland.

Conflicting Reports
The two duchesses are rarely seen in public events together due to their different schedule of commitments.
There are conflicting "insider" information about the real relationship between Middleton and Markle.
Some anonymous sources say that they have a supportive working relationship with each other and have the same focus in carrying out humanitarian work. It's also believed that their main method of communication is through emails.
Understandably, British tabloids have often created stories of rivalry between the two royals. In fact, this narrative of competition have culminated into a TLC documentary, "Kate v. Meghan: Princesses at War?". The TLC special promises a closer look into the Middleton and Markle's actual relationship as interpreted by veteran British journalists.

Is the Queen Invited?
Aside from questions surrounding their personal relationship, the possible attendance of Queen Elizabeth II has also been one of the most-asked questions regarding the baby shower.
While baby showers aren't really a tradition in the royal family, people are still expecting the queen to forego that given how fond she is of Markle and her excitement for having another great-grandchild. It can be remembered how the queen invited Markle and her mother over for tea before she wed Prince Harry.
Kensington Palace hasn't said anything yet about the queen's official plans.